Your Host for the Sonoma-Napa Wine Lovers Tour: RUSS DUBUC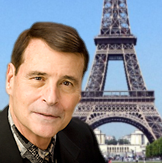 Russ became passionate about wine after his first visit to San Francisco in 1994. His many trips to Sonoma and Napa Counties have enabled him to develop tours with a continued learning basis about the grapes, wines, and wine making process used in this region.
His vision is to extend his education and experiences to others while providing exceptional tours and highlights of the number one wine producing region in the United States that is known throughout the world.
Not only does he have great fun hosting his groups but he also enjoys arranging tours and tastings for those wishing to experience both San Francisco and Wine Country. After so many years of exploring Wine Country, his desire is to share his experiences with you. His hope is that you will enjoy the wine tasting adventure as much as he does.