Sandals and Beaches are the Resorts for Scuba Divers or those who want to try. For families, it's Beaches. Minimum age 10. For adults, it's Sandals.
If you've always wanted to experience Scuba, the resorts can qualify you to dive at the resort in just a few hours. Our exclusive PADI® Discover Scuba Diver Program is only $100.00. You will now be able to dive throughout your stay.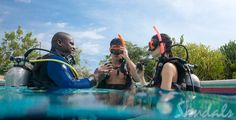 For those who would like to be certified, there is no better place. It's a full emersion course that includes both water time and study time. Depending on how fast you learn, the course takes 3 to 4 days to complete. The cost is $450.
Now, the Scuba World is open to you. What's more, diving is included at every Sandals/Beaches Resorts.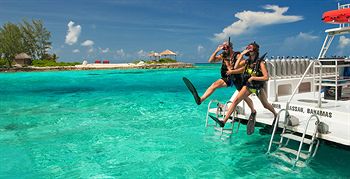 Be sure to call me, 816-454-3800 about these courses and especially for the full certification course. Safety says not to fly until 24 hours after the last dive.